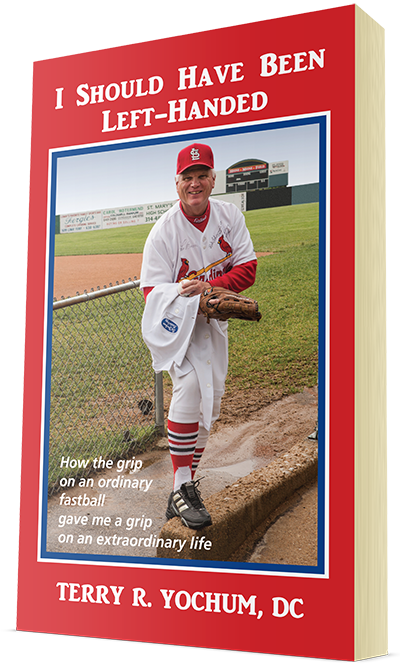 This book entitled "I Should Have Been Left Handed" recounts the experiences of Terry R. Yochum as young man whose passion and energy for a professional baseball career with the Cardinals are channeled into a new career that takes him far beyond the streets of his hometown of St. Louis. The early chapters tell the escapades of an energetic, athletic young boy growing up in South St. Louis, providing snapshots of life, music and local color in the 1960's.
The story details Terry's boyhood focus on dreams of success, pitching baseball for his beloved St. Louis Cardinals. While his drive to excel carries him to early success as a baseball pitcher, Terry finds his big-league opportunities are limited by the fact he is right-handed. A tantalizing opportunity for a professional baseball career presents itself during his college career and Terry is faced with choosing between a modest but tempting offer and taking his father's sage advice for a different career path. All of this occurs against the backdrop of the turbulent 1960's, when the Vietnam War was at its height and the danger of being drafted into an unpopular war loomed.
The story follows Terry's footsteps into his father's career and recounts the challenges of his transition from athlete to doctor of Chiropractic. Lessons about perseverance, dedication and hard, honest work are highlighted as a successful personal and professional life unfolds. Later chapters detail his accomplishments as an educator and chiropractic radiologist, culminating in the creation and eventual publication of a landmark textbook (Essentials of Skeletal Radiology) for the chiropractic profession with a major medical publishing house.
Throughout the book and specifically in a separate chapter on mentors, Terry reflects on the importance of seeking wisdom when making personal choices by taking example and advice from others. "You make your choices and your choices make you" is a favorite quote of the author, but clearly the best choices are not made in a vacuum.
The stories contained in the book are excerpts of Terry's life, showing that just an average boy with a burning desire can use the drive to succeed not only in sports activities but in life. It is an informative and fun read for all and hopefully can be inspirational to young students of baseball and those who will enter any aspect of health care to include chiropractic, medicine, osteopathy, podiatry or any other health related profession.
If you would like to purchase the book, please contact Dr. Yochum at [email protected]
What Our Readers are Saying…
"I Should Have Been Born Left-Handed is a could've, would've, should've type of story that many can tell or relate to. The reality is that only a few of us actually over come these challenges or circumstances, be they great or small, that life gives us and still become all that we can be. It's a feel good story that all of us can relate to and benefit from when we realize that everyone has issues of some kind to deal with, but positive things can happen for those who persevere."
"I Should Have Been Left-Handed is a story of what is possible to achieve if you have the strength and courage to pursue a dream. To read this book is an inspiration for anyone to see that they, too, can reach goals they only imagined. The book is the story of "just an average guy with a burning desire."
"I Should Have Been Left-Handed is an enjoyable read about a young man with big dreams who discovers that, while being right-handed may be a detriment to a pitching career on the baseball field, it is no handicap to even bigger accomplishments in an entirely different field of endeavor. Details of his transition from right-handed pitcher to "write-handed" author of The Essentials of Skeletal Radiology are an encouragement to anyone willing to work hard and dream big."
"Dr. Terry Yochum is an icon in the chiropractic profession. His personal life story is an inspiration to those who aspire to leave a mark and boldly go where others might fear to tread. This book provides a fascinating look into the life of a chiropractic pioneer whose indelible impact changed the trajectory of our profession. I encourage you to take this opportunity to get to know Dr. Yochum like you have never known him before."