This book entitled "I Should Have Been Left-handed" recounts the experiences of Terry R. Yochum, DC, DACBR as a young man whose passion and energy for a professional baseball career with the Cardinals are channeled into a new career that takes him far beyond the streets of his hometown of St. Louis. The early chapters tell the escapades of an energetic, athletic young boy growing up in South St. Louis, providing snapshots of life, music and local color from South St. Louis in the 1960's…..continue reading
"I Should Have Been Left-handed is a story of what is possible to achieve if you have the strength and courage to pursue a dream. To read this book is an inspiration for anyone to see that they, too, can reach goals they only imagined. The book is the story of "just an average guy with a burning desire."
"I Should Have Been Left-handed is an enjoyable read about a young man with big dreams who discovers that, while being right-handed may be a detriment to a pitching career on the baseball field, it is no handicap to even bigger accomplishments in an entirely different field of endeavor. Details of his transition from right-handed pitcher to "write-handed" author of The Essentials of Skeletal Radiology are an encouragement to anyone willing to work hard and dream big."
If you would like to purchase the book, please contact Dr. Yochum at [email protected]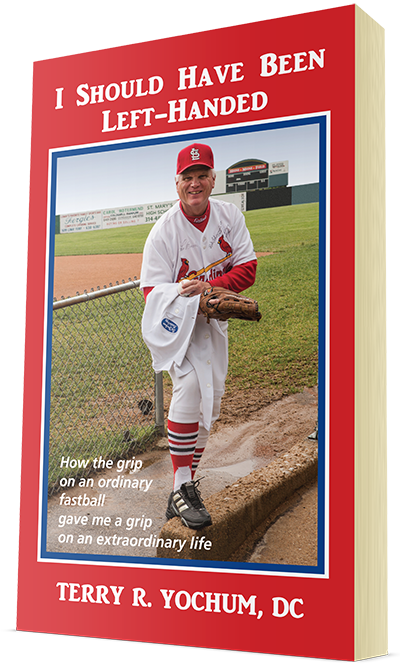 Donations
Foundation for Chiropractic Progress
The Foundation for Chiropractic Progress (F4CP) educates the public about chiropractic care through POSITIVE PRESS.
United Mitochondrial Disease Foundation
Promoting research and education for the diagnosis, treatment, and cure of mitochondrial disorders and to provide support to affected individuals and families.
Whitey Herzog Youth Foundation
The Whitey Herzog Youth Foundation provides baseball equipment for underprivileged children in the St. Louis and/or surrounding area.
About the Author
Terry R. Yochum, DC, DACBR
Dr. Terry R. Yochum, DC, DACBR was born a native of south St. Louis, where two powerful forces influenced his early development. The first was chiropractic, in the form of his father Kenneth E. Yochum, DC, DACBR whose life and career would inspire Terry to follow in his footsteps. The other was baseball, a natural channel for his competitive nature and athletic ability.